Style Blog
Achieving #closetgoals with Limited Space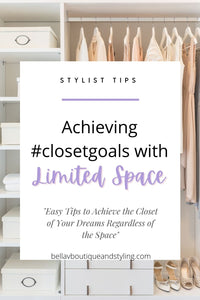 Hi Bellas,
When you think of #closetgoals what comes to mind? I'm sure you're thinking of this huge spacious closet with a cute siting area, a wine fridge and, at least 500 square feet. And there's nothing wrong with that but, what about the average closet? Well babes you're in luck. Just because you may be limited in closet space doesn't mean you can't achieve those same goals! Here are some stylist tips to help you create a closet space that not only speaks to you, but is Pinterest worthy ;)
What Does Closet Goals Actually Mean?
It's not about the glam, but how functional it is to you! Is it organized? Does the layout makes sense? Is there clutter? Your closet or wardrobe space should speak to only you and your preference. 
Organize It Like A Boutique
You know the feeling when you walk into a clothing store and the layout sort of tells a story? How all the jeans are together or maybe a table filled with everything you need for your next date night. Treat your closet the same! Organize your clothing by different categories, color, & length. Also consider the layout. If you have a job with a dress code, these pieces should be front and center.
Build In's
I would like to make a special announcements to all contractors when building homes… we NEED more than one rack! But this is a easy fix that can accommodate any budget. If you're local, we love California Closet's for their build-in expertise! We promise you will love them as much as we do. If this isn't in your budget try looking at Home Depot, Ikea or Lowes closet build-in selections. These places can also give you the option of installing it yourself which can be cheaper. 
The Right Type Of Hangers
No one ever thinks of hangers when organizing their closet, but it's extremely important. With so many different types of hangers in the market, there's nothing like velvet hangers in my opinion. They are budget friendly while also providing you with more hanging space.
Shoe Displays
There are so many ways to organize your shoes. This can honestly be a topic itself! You can find shoe racks like this one that can easily be moved around. Mini bookshelf's are also another option. One of my favorite options (which is free) is creating a shoe wall like the picture above. Simply gather your shoes that either have a block or skinny heel, find blank wall, measure enough space between each shoe and drill one hole for each heel. Not only will this shoe display give you more closet space, but its a pretty touch to add! #closetgoals for sure!!
Current Season Clothing Only
I can not stress this enough! Having your ENTIRE wardrobe in you closet will create stress when deciding what to wear. There's just so much going on. Your space should only have pieces you can wear now. I talked about the importance of only keeping the current season in your closet here.
Rolling Racks
To summarize, even after all these tips you may just need extra space, consider getting a rolling rack. There are a ton on the market from simple to more decorative options which, all depends on your needs. If you want to make it part of your bedroom decor, buy one with shelving. This way you can hang some pieces and have a space for accessories and shoes.
Which of these tips are you going to use?
If you're still struggling to convert your current closet space into the wardrobe of your dreams, reach out to our Bella V stylist! We can help achieve those wardrobe or closet goals you always wanted! Now offering virtual packages!! Checkout our packages here.
xo
Bella V 
Leave a comment (all fields required)
Comments will be approved before showing up.