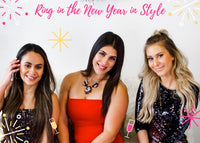 Hi Bellas, 

 Who's ready to ring in 2020 in style? I know what you're thinking… "Mel, I'm not even ready for Christmas!" But when it comes to looking your best we always prep ahead of time. I may not have time to get everything else in order but when it comes to my outfit let it be casual or glam it's always on point.
 
Let Bella V help you create a look that reflects who you envision to be in 2020. No matter if you are planning an evening of champagne and glam or a low key night at home. We have the right outfit for you! Get ready for our hottest New Year looks!
 
 Lookbook for New Year Glam

Ombre You Stay Sequins Dress

Shine Bright Sequins Bodycon Dress

Kiss Me Under The Mistletoe Side Tie Dress

Long Bell Sleeve Chiffon Maxi Wrap Dress 

 Casual New Year Vibes Styles

Retail Therapy Relaxed Leopard Jumpsuit


Luxe Cold Shoulder Fringe Fuzzy Sweater

Cozy By The Fire Brushed Long Sleeve& Bottoms

Any fun plans for NYE? What are you wearing?
 
Finding the perfect outfit to ring in the New Year can be too much to handle, after all Christmas has yet to arrive. We get it Bellas! Stop in or reach out to our stylist to help you find an outfit you'll love!!
 
We will be hosting our first holiday men's night at Bella V tomorrow! If you've been eyeing something, send your babe over. We'll be having promos, gift wrapping, gift bundles, and craft beers! A night he shouldn't miss ;)

xo
Bella V 
Leave a comment (all fields required)
Comments will be approved before showing up.