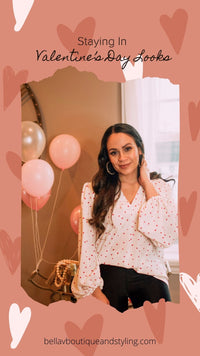 Hi Bellas,
Do you celebrate Valentine's Day? Usually we don't do anything big, except maybe have lunch or just order takeout. But regardless of what our plans are, I still enjoy being festive and dressing up. Unfortunately, this year most of us will likely be celebrating Valentine's Day at home. If there's one thing 2020 has taught me, it's that I honestly don't need somewhere to go in order to dress up! Not only do I feel more productive and confident wearing clothes that make me feel good, but it also helps make me feel like the world is back to normal. 
I encourage you ladies to put on your best Valentine's Day outfit this year, whether you're happily single or taken, and whether you opt for a cute loungewear set or a blouse and jeans: Pour yourself a glass of rosé, put on your favorite lipstick, and enjoy your evening! 💋🍷
Which Valentines Day look is your favorite?
Do you normally struggle creating looks that make you feel confident? Do you find it difficult creating looks for special dates? Need help throughout the month with closet or wardrobe needs? We have created a new styling package that fits all these needs and more. Our
911 Styling Session
package is basically having a personal stylist you can reach out to throughout the month for some help!
Find out how you can start your session here
Leave a comment (all fields required)
Comments will be approved before showing up.