Style Blog
I'm Sorry, But Not All Hangers Are Created Equal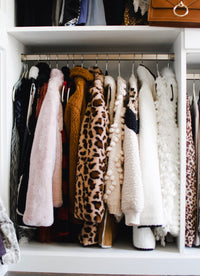 Hi Bellas,
Maintaining an organized closet will always be an on-going process, and while some find it challenging, there are easy ways to keeping your closet up to speed and polished.
Consistent Hangers Is The Key To Aesthetically Pleasing Closet
When it comes to buying props for your closet, hangers are the most important product you can invest in. Matching hangers is a simple and relatively inexpensive way to give your closet a neater appearance, and by using a consistent style of hangers, you'll add instant organization to what might be a frustrating dilemma.  
Many of us don't consider the impact hangers have on our closets because we don't give too much thought into what we use to hang our clothes. Aside from aesthetics, there are many benefits to storing our clothes in the best manner possible. Replacing your clashing hangers can help you save the right amount of space, make it easier for you to find what you're looking for, and can keep your clothes from getting wrinkled. 
 Choose The Right Hangers For Your Wardrobe
A variety of hangers offer basic functions, but each hanger variation is different in it's own way. That's why selecting the right hangers is such an important part to creating a practical space for your wardrobe. It's essentially the driving factor to building functionality in your closet system, and as I've said time and time again, a functional layout is the key to a perfect closet.
Most of the time, "choosing the right hangers" is about preference, but you should also ask yourself questions that help you identity if the hangers you want to invest in serve a purpose in your closet. The truth is, there's a disadvantage to buying cheap hangers instead of leaning towards quality. Not only will quality last longer, but it'll also be a long-term investment well worth it.
Make The Most Educated Decision For Your Clothing
There will always be pros and cons to each type of hanger, but you should always make the most educated decision for your clothing. While wire hangers are the most inexpensive option, they aren't a satisfying long-term storage option and quite frankly, they look and feel cheap. Plastic hangers are usually a popular choice, and are better for your clothes than wire hangers, however, most people tend to have them in different colors, which doesn't allow for a cohesive look so it might be worth spending the money on something less flimsy and more durable.
Velvet hangers are always in high demand. They're sleek design and chrome hook finish saves space, but they can also be difficult to hang small neck items and are suited for lightweight delicate pieces; nonetheless, they come at a decent price if bought in bulk. Last but not least, and if you want to add a touch of elegance to your closet space, wooden hangers would be my choice. Yes, wooden hangers take up the most space and come with a higher price tag, but they're the most visually appealing and you won't have to worry about your clothes loosing their shape. 
Leave a comment (all fields required)
Comments will be approved before showing up.