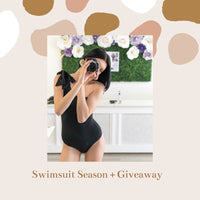 Hi Bellas,
Summer officially starts tomorrow! Who's excited? I am a summer girl at heart and love all things summer, especially when we are talking about cute bathing suits! Let's be honest some of us rather get a root canal than to shop for suits. Bella V knows the struggle all too well and we keep all those things in mind when we decide what to bring into the store. We are on the constant search to find swimsuits that are realistic for the everyday girl that only enhance all her good qualities!
What is your go to swimwear? Are you a two piece or one piece kind of girl? Personally, I love anything with good stretch, has great support, and sucks me in all the right places. I mean, isn't that what all of us want in a swimsuit? 
Aloha Off The Shoulder Reversible Bikini 
Is this an eye-catching high waisted swimsuit or what? Obsessing over the print and it's off the shoulder style. What makes this hot seller swimsuit so special is the spandex material. It provides you with moderate coverage all while giving you a nice, smooth shape! And the bonus… the bottoms are revisable. Two swimsuits in one ;)
Just because it's a one piece suit, doesn't mean it has to be basic! This black, one shoulder swimsuit is everything but basic. We love the elegant touch with a shoulder bow and cut out back. It's completely lined and hello… who doesn't need a black swimsuit in their collection? This swimsuit features spandex to keep you secured while still having fun in the sun.
Which is your favorite?

If you're like me, you're probably thinking you need both. I get it! Most of us will be celebrating our summer in our backyard pool. Bella V is doing a fun Instagram giveaway where you win a free swimsuit!! Checkout all the details down below.

P.S. More swimsuits making their way to Bella V :)
xo
Bella V 
Leave a comment (all fields required)
Comments will be approved before showing up.