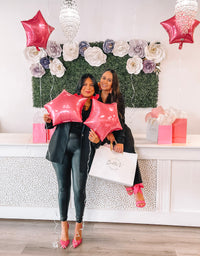 Hi Bellas,
I'm sure you know all about black Friday! It's basically the start of some of our holiday shopping or the day you score on big purchases you've been eyeing in big box stores. But what about Pink Friday? Pink Friday is even more special! It happens the Friday right before thanksgiving and instead of you shopping in a big box store… you shop small business boutiques!
I know firsthand how it feels when someone decided to shop with us rather than at a bigger store. Not that there is anything wrong with shopping at Target (I'm a proud target addict), but there is something bigger about shopping small. From supporting someone's dream to supporting your community. 
We hope to see you the weekend of November 18, 2022
xo
Bella V 
Leave a comment (all fields required)
Comments will be approved before showing up.