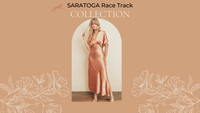 Hi Bellas,
Who's excited for the biggest summer event in the Capital Region? Yes, we are talking about the Saratoga Race Track. Are you planning to attend the races this year? If so, the question we are all asking is what are you wearing? I am pretty sure it's not all about the races, rather the opportunity to play some major dress up. It's about the bright colors, bold patterns, flowy dresses, fancy clutches, hats, fascinators… the whole package! 
But, did you know there's an actual dress code? And the dress code is actually fun! I mean how many times throughout the year do you attend an event that requires you to dress up like you were a cast in Pretty Women! Their track dress code all depends on where you're sitting. It can range from a total casual summer outfit to a full glam look. Not sure what's your dress code for your sitting area? We've got you covered!
Grandstand Seats is all about being causal. The dress code is pretty simple… basically you can't go nude lol! Even though there isn't a set dress code, why go with something boring when you can slay your look? And like my momma always said "it's better to be overdressed than under!" For my ladies sitting in this area I would suggest jumpsuits! They are both are fun and comfortable. These looks will definitely have you looking like a fashionista at the track!
I don't know about you, but Clubhouse Seats sounds pretty fancy to me;) It reminds me of the movies where the ladies attending the races would be all dressed to the nines! I say go with the flowy and glammed look! Dress code for this area is anything but casual. Basically no shorts, tanks or flip flops. Go for a floral print maxi dress or romper, add your favorite heels, a fancy clutch and out the door you go!  **This dress code also applies to those sitting in The Porch, Club Terrace, The Easy Goer and At The Rail Pavilion**
What's Saratoga Race Track without a fancy head gear? Wear those hats and fascinators if you're sitting in Box Seats! Not only it's a tradition, but how many other opportunities do you have to wear a fancy head gear without getting the side eye?! Remember the bigger, brighter your hat or fascinator is, the classier you'll look. Pair them with a beautiful floral maxi that can take you from track to any events after. 
What are you wearing to the races this year?

Saratoga Race Track fashion is all about fun pieces you probably wouldn't wear every day or taking your favorite summer dress and glamming it up with accessories! Need help finding the right look for your track day? We can help. Checkout our race track collection or our personal styling packages!
xo
Bella V 
Leave a comment (all fields required)
Comments will be approved before showing up.