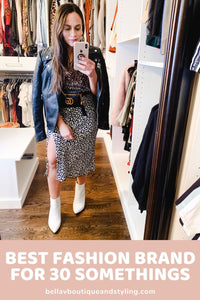 Hi loves,
Working at the boutique has made me realize how many of us in this age group feel forgotten when it comes to fashion. I find it to be a weird stage for clothes. How many times have you gone shopping and seen pieces for the younger or mature ladies and the middle group is non existent? And guys, we should embrace this age group! Embracing how you feel about yourself, what you've learned, what you know, and what you have accomplished. A wardrobe that describes just that, should be a goal we all want to achieve. Finding a fashion brand that is perfect for the 30 somethings can be tricky, but no worries… I found a line you will simply fall in love with!
The excitement we had when we finally found Willow was surreal! Every piece is made with everything us girls in this age group want, great quality, craftsmanship, and some stretch, am I right?  Willow is all this and more with classic and trendy pieces you will be wearing over and over for years. Can't wait to share with you all about this brand! Checkout my favorite pieces from their pre spring collection:
Lets start with my favorite piece! I adore a white jumpsuit, specially in warmer weather! I wish I had taken it to my trip to Hawaii because it has breathable fabric, perfect for the warm weather. Also bra friendly with a crisscross back and sleek wide leg silhouette. Wide leg has made a big comeback and if you're unsure about it, I definitely recommend a try. They make you look longer and leaner. And if white isn't your color, it's also available in blackmy friends.
Stripes are an essential specially for spring. I mean, it's the main spring print, right? This two piece is one you'll keep wearing over and over. These cropped pants have great stretch and hugs you just right. The topis more of a relaxed fit, which can be a little tricky for my petite frame, so I decided to sized down one size. You can style it as an all monochromatic look and maybe add a denim jacket to break the print a bit. Or wear this two piece separate like I did down below with a smock top.
For the girl that could care less about wearing black, this trouser and blouse duo is a one of a kind! I feel like its a "real grownup" set!! I love how easy you can transform this set from work to night. Endless options ladies. The best part about this set is the material is insane. It feels like you're walking around in PJ's. I don't know about you, but clothing that feels like PJ's is always a win win in my book. These pants are also cropped, but they fit my short frame perfectly. The button down blouse is relaxed yet comfy and airy!
My love for slip dresses are real! What's more sensual and feminine than a slip dress? Nada girls! This midi dresshas been a hot seller, because it's one of those pieces that honestly sells itself. Even though it feels nothing like spring here, a dress like this can not sit in your closet waiting for the warm weather. I told you guys already I am too impatient when it comes to fashion. So mama is rocking it with a leather jacket and white booties for the perfect pre spring look!!
Which is your favorite piece from this line?
First we want to say thank you! Thank you for being our rock during this difficult time. So many have reached and have shown us support which has kept our vibes + hustle going! Without you, a small business will have an extreme time surviving and we couldn't be more proud of the ladies who have our back. Even though our store front location is temporary close to do our place in helping stop the virus, we are open 24/7 in our online shop and we will also be very present in our social media channels. Please bare with us as we adjust to our new "temporary" normal. Stay healthy, safe, and positive. And we can't wait to see you guys at our shop soon ;)
Much Love,
Bella V 
Leave a comment (all fields required)
Comments will be approved before showing up.