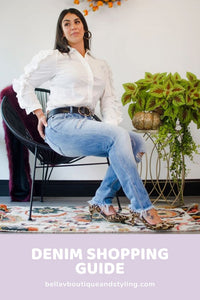 Hi Bellas,
Shopping for denim is my absolute favorite! Once upon a time, it was the worst shopping trip for me, besides swimsuits. Shopping for denim is hard as heck guys! We all have different bodies, for example, I am petite and sort of curvy. Sometimes petite styles tend to be smaller all the way around. Small waist and length. But that's not the case with me. I have somewhat of a butt, small thighs, and thick legs. For years I struggled to find the perfect pair only to end up with an alright one just because the shopping experience was exhausting. If you forward to now, jeans are taking up most of my wardrobe, surprisingly! It's all about finding the right pair!!
We are very particular when it comes to what denim we should carry in-store. We've been carrying KanCan denim ever since we decided to carry jeans. We trust KanCan jeans. Every girl who has struggled to find their perfect pair of denim has had the same shocking feeling we once had when we decided to carry this brand. These jeans fit like a glove. First, they are soft like butter guys! They aren't itchy or stiff in any shape or form. KanCan jeans are so stretchy and I'm talking about the good kind of a stretch. They don't have any gap in the back, and aren't those stretchy jeans that by 2 hours of wear, they feel like the baggy jeans from the '90s. And the last reason we love them so much is that you can't beat the price. Seriously! You would have thought these jeans run for about $200 or more. But Bellas, they are all under $100
These are our current styles
Lucinda Distressed Mid Rise
For all my petite ladies, here is the denim that you don't have to roll up or get tailored. These jeans fit as good as they look. And we love the distressed look and the slit detail in the hem!!
Lexis Frayed Ankle High Waist
Hello comfy and chic! This denim has details upon details. With its raw hem, these jeans are a very unique style. We are a true believer that high waisted styles are the new way to go. They tuck in your baby pouch, keeping everything very flattering.
Girlfriend Fit Medium Wash
Girlfriend denim is the new boyfriend jean. This means they are fitted in the waist and thigh while keeping the leg more straight. So flattering babes. You can totally rock her causally with an oversized sweater and still look polished all while feeling completely comfortable. 
Butterfly Dark Wash Denim
We all need a pair of clean-cut jeans. Another wardrobe staple! Whether you have causal Friday's at your job or prefer a no distressed style, she is for you. The button fly jeans are so on trend and we are totally up for it. Plus, it works for my tall Bellas :) I got you!
Have you tired KanCan denim before? 
We truly understand the struggle most of us have when buying denim! We understand because we've been there! But there is no way we want our Bellas going around struggling to find the perfect denim. Reach out to our personal stylist. If there is one area she loves shopping for, it's jeans! Not sure what's the best brand for you? Have you gained weight and are unclear what denim style fits you best? Are you a mom and need a good pair of denim you can wear over and over for those days when we need to look put together but have no desire to? The struggle is real my friends, but so is reaching out for help! Book your free consultation today :)
xo
Bella V
Leave a comment (all fields required)
Comments will be approved before showing up.