Style Blog
Tips on How to Create a Fall Wardrobe You Will Love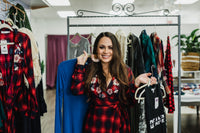 Hi Bellas,
Hello fall! Literally in a day it turned into fall. It was only yesterday it was 78 degrees and today, I woke up to weather in the low 50's. Is your wardrobe fall ready? I admit I'm a little late in the game, I find I'm more excited about getting my closet ready for spring/summer rather for fall/winter.

Unfortunately, it's time to say good bye to flip flops and cut-off shorts and hello cozy sweaters and animal skin booties.
So let's get to it! First, you'll need to dedicate 1-2 hours. Get in the mood, light up your favorite pumpkin spice candle, pump up your favorite jams and get ready to conquer your closet.  
Pack Your Summer Clothes:
Bye-bye cute leopard shorts…. There is no reason in keeping non-seasonal pieces in your closet. Leaving them in your closet will only create confusion in what to wear.

Your closet should be filled with items that can be currently worn. Pack the non-seasonal clothes in plastic bins (I suggest transparent bins, so you can actually see what's inside without having to dig through) or hanging them in a closet you don't use. Having an organized purposeful closet makes it 100x easier getting dressed.
Fold All Sweaters:
How I cringe when I'm working on a closet and see hung sweaters. Sweaters are not meant to be hung; they lose their shape. You will end up with an over sized collar and hanger marks. Not a cute look! I like to color coordinate sweaters and placing them on the top rack of a closet.

Closet Detox
In my experience, I find that most of my clients only use about 30% of what's in their closet. I totally understand why it can be so hard to let go of items that have been hanging for months or even years. We tend to keep things because of their monetary or sentimental value. And we all have that "when I lose weight" dress we like to keep around from High School. I can guarantee you that having a closet full of things that you can wear today that brings you joy beats holding on to pieces that have no purpose.

One of my clients had a very difficult time getting rid of items. She felt it was too much of an investment to get rid of anything. Many of these pieces were bought years ago when they were relevant and fit her lifestyle. Currently those pieces did not fit her lifestyle hence why they haven't been worn in years. With a little pleading she agreed to trust me. After detoxing her closet she realized her wardrobe was easier to manage and style. Each piece in her closet brought her joy making getting ready stress free and enjoyable.
The Importance of Transitional & Layering Pieces
Don't be too quick to pack up your short sleeve t-shirts and camisoles. These are perfect pieces to wear under blazers, cardigans and other layering pieces. Not all Fall/Winter pieces need to be long sleeve and bulky. Good basics are as important as all your fun fashion pieces.
Does Your Fall Wardrobe Need Tailoring?
As a personal stylist, I find the majority of customers neglect getting items tailored or repaired. Instead of spending additional funds on items that are very similar, take your pieces into your local tailor. Most dry cleaners have an in-house tailor.

 

A quick trip can fix a hem, a button, or take in a waist line within days for a perfect fit.
This includes shoes and boots. I invested in a pair of boots 5 years ago, every year I take them to get them polished, sole and heel replaced they come back like a brand new pair of boots!

Make a Shopping list 
What are you missing to complete your wardrobe? Think of staple pieces you wear often, not special occasion pieces you pick for a specific occasion. Are you missing layering pieces? Cardigans? Not sure what pieces you need to complete your fall wardrobe? No worries, there are people like me who LOVE digging deep into making your wardrobe practical. Out sourcing can eliminate headaches and additional stress. We'll do a shopping list for you ;) 
Go Shopping
My favorite tip on getting your wardrobe fall ready... going shopping! But remember, to stay on track with your shopping list.

 

Getting distracted with all the shiny dresses can get very dangerous. That credit card bill can rack up real quick if not focused.
It would be amazing if we were able to go on a major shopping spree for every season.
Ah, we can dream right?! If your list consist of more pieces than your bank account can handle, break them up into multiple shopping trips or set yourself a monthly allowance you can use to build your wardrobe! 
Are you ready to conquer your closet?
Sometimes tips aren't enough and the stress of looking at your wardrobe and getting ready for fall seems like a chore. We get it. We all live busy lives. If this seems more like a task where you can't seem to find time to actually get down to business, look into our special VIP package. Within 3 weeks you'll have a brand new wardrobe you'll absolutely love that fits who you are today! Send our personal stylist a message to learn more about it.
xo
Bella V 
Leave a comment (all fields required)
Comments will be approved before showing up.