Style Blog
How to Style Summer Dresses Multiple Ways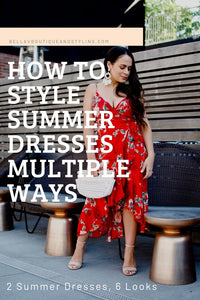 Hi Bellas,
I love a good style challenge! It helps me see my wardrobe in a different light and it always feels like I'm wearing a brand new piece!! When it came to creating a style challenge what better item than a summer dress? In reality how many ways can you possibly wear a dress? Well babes, here I am showing you how to style summer dresses multiple ways. I added an evening date night look, causal and a fun look. I decided to showcase two print dresses to take the challenge a step further.
I love a wrap dress. Actually I love anything wrap inspired. This red floral print dress is one I love. Love the color, print and style of this dress. For date night I went with blush heels to bring out the pink tones in this dress. Red statement earrings to make it pop and a simple bag. I don't own a lot of evening bags, but this circle crossbody bag can be evening wear approved by simply carrying it through the handle. 
By the look and style of this dress, you would immediately think its only meant for dressy events, but with some simple accessories you can wear this dress for any causal occasions. I went with simple slip on sandals, hoops and a crossbody bag. For those taller ladies, this summer dress will look fabulous with some white sneakers.

The fun looks where probably my favorites, because it really made me think out of the box. I love wearing dresses as a swimsuit cover up. Sometimes we go from the beach to lunch and I still want to feel a bit more dressed up. I used this wrap dress as a duster over my swimsuit. I tied the wrap belt, added some flat sandals, beach bag and hoops. Because even for a trip to the beach… I still like to wear some type of jewelry. 
My second option is this summer parsley print sundress. I love dresses like this where you can easily dress up even though its more on the casual side. For a night out I went with fun red fringe heels. I swear I can wear these heels with sweatpants and it will look fabulous. I paired it with my red statement earrings and finished this look with a crochet white bag.
I love wearing dresses even if I'm running errands. What can I say, I'm a dress type of girl! This is what I would wear for a causal look to run errands. If you saw our insta stories from last week, you'll know a denim jacket (or even a denim button down) is a huge staple in your closet. If you don't have one yet… you need one asap. Along with denim jacket, I paired this dress with neutral wedges & earrings and a crossbody bag. 
My favorite look of all has to be this one! I guess because my creative juices were flowing with this look. It's been a while since I used a dress as a skirt and I don't know why? I knot my white tee and add a belt to create more of a skirt and type of feel outfit. Finished my look with wedges, layered jewelry and a straw bag.
What are some ways you style summer dresses? Which of these looks is your favorite?
xo
Bella V 
Leave a comment (all fields required)
Comments will be approved before showing up.