Style Blog
Summer Wedding Looks You Can Wear Again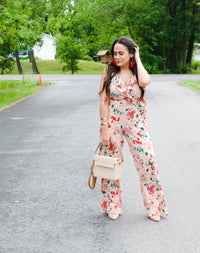 Hi Bellas,
Tis the season of wedding! I'm sure by now, you have been invited to a few this summer. And what to wear is always a question on my mind. Because you always want to look appropriate. Does the wedding take place outside? Is it a cocktail wedding? Questions after questions.

I hate buying an outfit for an occasion and never being able to wear it again. Who's with me? It's a total waste of money and quite frankly pointless, unless you're the bride. Regardless of what I buy, I always think of different ways to wear it more than once. We all have that item (or even those items) in your closet you wore to an event and it has yet to see the light of day. So guilty over here! But I try to be a little smart with my purchases. And I'm sure my wallet (and hubby hehe) will be thankful.
Linen is like the only material you want to wear during the summer! Its light weight to make the summer heat a bit more bearable, specially if the wedding is an outdoor event. Blush has been such a favorite color for me these past few years. Which is a bit more surprising to me since I am not a pink type of girl. This floral jumpsuit has such fun details as well. The ruffle hem is one that's impossible not to love. Plus, the wide leg silhouette is so on trend right now. For petite girls like us, wide leg is a god given gift. Giving you legs for days!!
I love a good basic! But when the basic has a little twist to it… I'm all in! This dress is a classic. I can see this being used multiple times to weddings or events this summer. Loving the bold color for summer. I'm not one for square neckline, mostly because I have a short torso and it just doesn't align right on me. But since this dress is more fitted, it makes this issue nonexistent. The knot in the middle camouflage your midsection, so no worries about the wedding food baby belly!
What have you worn to a summer wedding?
Need help planning your look for a summer wedding? Reach out to our stylist! She can help you pick the perfect guest wedding look or any event coming up that will have to looking and feeling your best ;)
xo
Bella V 
Leave a comment (all fields required)
Comments will be approved before showing up.