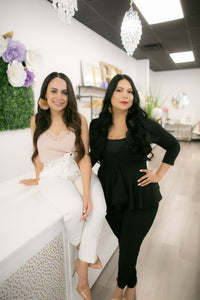 Hi Bellas,
In honor of #NATIONALBOSS'SDAY. Melissa and I will share our story on how and why we continue to keep on pushing. I want to warn you that being a boss is not for the faint of heart. There will be lots of sleepless nights, anxiety attacks and some tears.  BUT at the end of the day, it feels so darn good owning your own business. So many people can only dream about it, and very few actually take that leap of faith.


Lorena's Story:
I worked for big-name designers since the age of 19. I knew the ins and outs of product development like the back of my hand.  I worked long hours, traveled weeks at a time and had a healthy bank account. Then I fell in love, got married had a baby. I could no longer raise a baby and still work the long hours that my job demanded.  As a family, we decided to move Upstate. Unfortunately, I realized there weren't any fashion job opportunities here.  I always wanted to start my own business but was so afraid of the risks. 


Fast forward a couple of years later of living up here, I became pregnant with my second child and 2 weeks after giving birth, my left eyesight and sensation of my face were gone.  I was diagnosed with a non-cancerous brain tumor.  So, there were 2 things I promised myself while going through radiation: 1-I'll survive & 2- I was going to start living my life without fear. I bought a FedEx truck shortly after and that was the start of Bella V Mobile Boutique; named after my two girls, Isabella & Victoria.  


So many unknowns came with opening a business, such as permits, licenses, taxes, social media, and the mechanics of a truck. But I did not let that stop me! I researched, read books, reached out to other business owners and never gave up. Even when things seemed impossible, I figured it out. I never waited around for things to happen or for someone to fix it for me. I MADE IT HAPPEN.  I ran the truck on my own for 2 years and with its success came mistakes, failed attempts on new ideas and lots of frustrating days. What energized me was hearing my daughter say how proud she was of me and the support of my hubby, mom, and some friends.  I was fortunate to meet Melissa at a ladies' night event. She started as just a familiar customer, then we ran into each other at a few other events, and she emailed me to meet up for lunch.  Now, we have been business partners for about 3 years and it's been a hell of a ride! 


Here are some of my Girl Boss Habits that I live by:


1.       Plan, organize and stick to it
2.       Stay confident and positive –it's all about that mindset
3.       Do not compare yourself – use others as inspirations 
4.       Education is key – research, take training courses and attend seminars
5.       Be an early riser – I get up at 5 AM every day
6.       Take risks – failure is a part of life but it sets you up for success
Mel's Story:
I was born and raised in the heart of the South Bronx. With a wide cultural diversity came with exposure too many types of fashion, which always intrigued me. My dad would always tell me that I was born with a tutu wrapped around my waist because I was as girly as they come. From a young age, I was always fascinated with fashion. My parents didn't have much, but they raised me with love and the gift to use my imagination. I quickly figured out how to make a minimal wardrobe last and how to maximize what I owned. The more I played with my own wardrobe, the more I loved it.


At the young age of 17, I was accepted into The Fashion Institute of Technology in NYC, ready to conquer the fashion world. The same year I was blessed with a beautiful baby girl, which redirected my life's path. Fashion school was put on hold because I thought in order to provide for my child, I had to follow the realistic approach when it came to getting a job. I went into the medical field instead. As the years went by and I became a mom of 3, I knew something was missing. I was so focused on being that "normal mom", with a "normal job" and providing my kids with what I thought was a "normal life." One day I woke up and decided it was time for me to follow my own dreams. Little by little I put my toes into the fashion world by starting with a blog and moving up to creating my own personal stylist business. Even though I knew nothing of running a business, I was eager to learn.


I met my partner in crime at a ladies' night out pop-up event. I remember meeting her and hearing all about her fashion truck and I legit thought to myself "that's a badass mama right there."  After that night, I told everyone I knew about this cool fashion truck boutique because I sort of had a girl crush on her. I admired her creativity and the will power to create something that is risky or scary to do. Nothing about it was "the norm." I kept running into her at other events and decided to reach out to her to see if she was willing to provide me with some business tips for my own business that I was running. She was more than willing to help a girl out. We collaborated on a few events and eventually decided to become business partners. The rest… well, I'm sure you already know!!


Here are some of my Girl Boss Habits that I live by:
Keep on learning. The learning should never end. You can always learn something new or how to become better at something.
Give yourself a day off. Any boss babe will tell you, you never stop working. But nothing good comes from being overwhelmed. 
Say "no" more often. We already have a jam-packed day. There's no need to add on to it by doing things that you know won't benefit you, your family or your business.
Use a planner! Staying organized is key.
Rock a badass outfit that makes you feel confident + powerful to handle it all!
Happy Boss's Day!
Leave a comment (all fields required)
Comments will be approved before showing up.