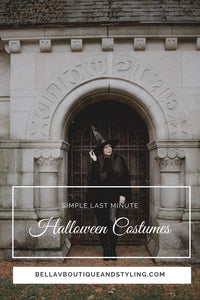 Hi Bellas,
Halloween is almost here! Are your kids as obsessed with Halloween like ours? According to them it's the second best day of the year. Christmas is their favorite, no explanation why…LOL I remember the days when Halloween was easy breezy. I had one little one that would have worn anything I dressed her up in with no objections, giving mama some time to join the fun with a creative costume. 
Fast forward to 3 opinionated kids that what to wear the hottest selling costume that you can't find anywhere. You end up bribing the target associate to text you when the next shipment of the Princess Elsa costume arrive and you are waiting for that text like you're waiting for a new liver doesn't really leave you with much time to think of what costume you'll be wearing. #truestory But I still like the idea of dressing up and being silly with the kids. Now I never was the one to spend $100 on a costume that will break apart just by taking a seat. I like getting creative with things I already have at home or pieces I can wear throughout the fall season. 
Need help coming up with last minute fashionable costumes? We got you covered. Here are a few of our favorite simple to create Halloween looks.
Cozy Bunny
Fun fact, bunnies are my favorite animals. They are so fluffy and so darn cute! Be the coziest bunny with our fuzzy jacket that we are sure you will fall in love with. Finish your look by adding jeans or leggings and of top it off a bunny ears headband. 
Baddest Witch on the Block
Who doesn't love wearing an all-black outfit? This is basically Lorena's everyday outfit. So for all black on black lovers this is an easy one for you. Lorena wore our cape sweater to keep warm while trick-o-treating with the kids, paired with leggings and added a $3 with hat from Target. Now go show 'em who's the baddest witch on the block!
Sexy Lumber Jack
I will be making my country husband dreams come true with this sexy lumber jack look. All you need to rock this look is our plaid vest, a black mock neck top and jeans.
Mama Drill Sergeant
Camo has been one of the hottest trends that keep coming back year after year. We love it! Have fun with your makeup creating the perfect camouflage look. Start off your look with our Sherpa Camo sweatshirt pair it with leggings, and cute boots. 
Which of these Halloween looks is your favorite? 
xo
Bella V
Leave a comment (all fields required)
Comments will be approved before showing up.