Style Blog
TIPS ON TRANSITIONING YOUR WARDROBE WHEN IT'S COLD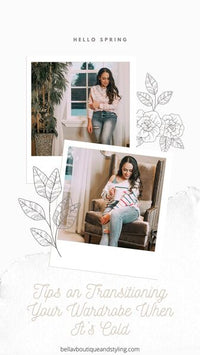 Hi Bellas, 
Who is sick of the cold temps and the snow that seems to be appearing outside your window every 3 days? I'm raising my hand with you, because I'm over it too! I'm ready for some sun and warm weather!! Now, just because this won't happen for at least a couple more months, doesn't mean we can have fun transitioning our wardrobe. It's all about the balance and having key items. Softer fabrics, light weight sweaters, and of course a pop of color. Here are some tips on transitioning your wardrobe when it's still cold out.
Add White Sneakers 
I remember rocking white kicks when I was younger and I truly thought I was the sh*t! It was the start of warmer weather and to be honest any athleisure look looks ten times better with white sneakers. You can also go the extra mile and incorporate a boyfriend blazer to your jeans and sneaker outfit for that chic style.
Pop of Color 
Nothing makes me happier then adding a pop of color to a simple outfit. It brightens my mood up instantly! This polka dot top is a spring wardrobe must have. The red gives your skin that perfect glow, while the off the shoulder neckline puts you in a spring vibe. This look can also be styled with booties but, I wanted to show you how I paired it with over the knee boots instead. Just because you're going for a transitional look doesn't mean cold weather accessories should be pushed to the side. 
Lightweight Sweaters 
Lightweight sweaters have a special place in my heart. As much as I love being cozy, I hate fabrics that overwhelm you. Our Brooke V Neckline Sweater is a knit you'll definitely want to add to your collection. It's thick, but breathable. Plus, the multi color stripes have spring written all over it.
Add Your Classic Trench Coat
What is a transitional spring wardrobe without a trench coat? Nada! It keeps you warm and just adds the perfect finishes to any outfit. Besides, there's something about a trench coat
that makes me feel like a total boss babe. Or maybe that's my petite frame ego coming through (hehe)
Are you ready to transition your wardrobe for spring?
Have no idea how to get your transitional wardrobe in place? Want to know how to incorporate your recent spring purchases into looks you can wear now? Join our 911 styling sessions to have a stylist you can count on to help you create looks that makes you feel like a total babe. Learn more about this service here.
Leave a comment (all fields required)
Comments will be approved before showing up.