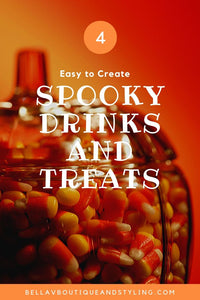 Hi Bellas,
Halloween is today and we are ready to get in the spooky spirit! Do you make any special treats for Halloween? When it comes to making treats, I like recipes that are simple and to the point. And may I add, with ingredients that I actually know. There is no way I am going to spend hours in the kitchen creating elaborate drinks and treats. Mama is way too busy for that. Luckily we have a great community of ladies that understand the struggle of balancing mom life, and found some simple and easy recipes for you! These are our must-have spooky drinks and treats to serve for Halloween.
Regardless of what drink you serve, add these creepy ice cubes for the perfect spooky effect.
Not your typical punch! I am a sucker for any gummy candy and my kids take right after me. So a gummy drink is really a no brainer for us.
It can't any easier than this, guys! Plus, the kids will love to join in on all the fun of making these. 
Us mamas need a yummy treat to enjoy after creating all of these delicious snacks. And I'll let you in on a secret… there's nothing wrong with adding this poisoned apple cider cocktail into a cup you can sip on while walking with the kids around the neighborhood! ;)
What are some spooky drinks and treats that you create for Halloween?
Leave a comment (all fields required)
Comments will be approved before showing up.