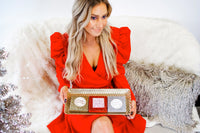 Hi Bellas,
Tis' the season! Time to eat all the yummy traditional dishes & drinks, to wear cozy loungewear around the tree, making memories with your loved ones and gift-giving. 
We understand most of us love the idea of gift-giving, but the actual process can be stressful AF. Some of us are already overwhelmed with what's on our plate adding another task, figuring out the perfect gift to buy is just another stressor. 
But Bella V has come to your rescue with the ultimate gift guide for the animal lover, the weekender and all gifts under $30! Can it get any better than that?
For the girl who rocks animal print like no one's business, check out these goodies:
 
 1. Adrianne Leopard Print Satin Duster 
 2. Long Sleeve Leopard Print Tie Top + Leopard Print Brushed Jogger Pants 
 3. I've Earned My Stripes Zebra Print Mini Skirt + I've Earned My Stripe Zebra Print Moto Jacket 
 4. Dorothea Mini Leopard Front Knot Top 
 5. Out of Hiss League Wide Leg Pants
 6. Nala Animal Print Frayed Sweater 
 7. Fuzzy Zebra Print Beret 
 8. Faux Animal Skin Top Handle Belt Bag
For the girl who is not into getting all glammed up, but loves to look cute with a casual and comfy outfit during the holidays, check out these gift ideas:

 1. Leopard Print Brushed Jogger Pants + Long Sleeve Leopard Print Tie Front Top
 2. Bonfire Love Rib Knit Hoodie with Pom Pom
 3. Cozy Cutie Long Sleeve Twist Knit Top
 4. Tash Faux Suede Shearling Vest
 5. Pastel Color Block Long Cardigan 
 6. Girlfriend Fit Medium Wash Jeans
 7. Check Me Out Plaid Stretch Pants
 8. Cozy and Snuggled Plaid Asymmetrical 
 9. Rez Plaid Button Down Top
 10. Lazy Fall Days Waffle Knit Slouchy Beanie 
 11. Mocha Latte Knit Pom Beanie 
 11. Checkmate Plaid Vest 
And lastly, for those gifts that we need to buy on a budget, whether it's for a teacher, neighbor, or that mail woman who knows where to place all of our online purchases so that the hubby doesn't notice (hehehe)… these are a must-have!
1. Bonfire Classic Plaid Blanket Scarf 
 2. Tickled Pink Knit Duo Gloves
 3. Everything in Plaid Asymmetrical Oversized Cozy Scarf 
 4. Caviar Metallic Pom Beanie 
 5. Plaid Knot Faux Leather Headband 
 6. Bella V Boutique & Styling Gift Card
 7. Falling Leaves Knit Beret Pom Beanie 
 8. Elephant Pendant Beaded Bracelet 
Stay tuned as next week we are promoting another gift guide that you won't want to miss! ;)
 
 This Friday we are having our pre-Black Friday event! (11-7 PM) We decided to move it up a week to make sure you guys have time to spend with the family, and your Friday after Thanksgiving all snuggled up with your favorite PJ's watching movies and eating leftovers.
Leave a comment (all fields required)
Comments will be approved before showing up.