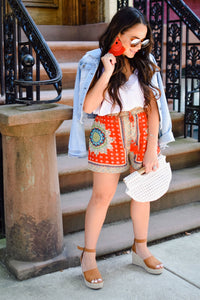 Hi Bellas,
I am fan of hacks that makes life easier. There is so much I have to do throughout the day, that if something can help me achieve my to-do's faster I want to be part of it. Cooking, cleaning, even style hacks count me all in. Obviously, I love fashion or this blog won't even exist. As much as I love clothes and all that comes with along with my style, I don't want to stand in my closet every morning wondering what to wear, what should I wear with this piece or what shoes to match my outfit. Ain't nobody got that much time in their hands.
Since I am busy girl always on the go, I have master getting dressed and ready to go like a pro! 
Plan Your Looks The Night Before
I know so many ladies that struggle getting ready for the day. They stare at their closet and right when they are about to give up, they just pick up the easiest or first thing they find and out the door they go. Plan your looks according to your plans. You can plan this Sunday evening for the week or the night before. Before going to bed, take a look in your closet and plan your outfit. Check the weather, your planner and see what your day consist of. When I mean plan I mean plan plan. Pick out your outfit, shoes, accessories (including handbag) and hang it together or lay it out for the next day. I can't tell you how easy it is to get ready for the day when my outfit is all ready planned. 
Your Go To Look
We all have that one outfit (or outfits) in our mind that is easy and makes us feel good. We've worn them countless times and each and every time it just works. There is nothing wrong with wearing those outfits more than once. A simple hack to these outfits is changing your accessories. Add a layering piece, add a statement piece or a bold color to change things up.
There is nothing wrong with asking for help, specially if it helps you in anyway. Ask away my friends. I believe in looking your best in order to do your best. Hire a stylist that can help meet your needs. Someone that knows your personal style and can help create outfits that reflect your lifestyle with items you already own. What's better than waking up, walking into your closet and see pre made outfits? Nada!!  
Invest in Basic Pieces
You know I love anything that's a statement, but it wouldn't be possible without some good basics. Basics help create the missing pieces in any outfit. Investing in good basics that will stand strong after wearing them a billion times is key. Those new jeans you just bought will always pair well with your favorite white tee. That little black dress you've had for years and is your go to, will look pretty badass with endless option of heels. 
Follow Bloggers or Scroll Through Pinterest
I can't tell you how many times I have gotten style ideas just from following my favorite bloggers. Whether they remind me of items I have forgotten I even own or giving me ideas how to style pieces together. The days waiting for your favorite magazine to come into your mailbox are over. Besides instagram, Pinterest is one of my favorite social media platforms. Anytime I get stuck wearing a particular piece I always search it on Pinterest ;)
What are some of your style hacks that helps you slay your looks?
xo
Bella V 
Leave a comment (all fields required)
Comments will be approved before showing up.