Style Blog
Why You Need Outside Help For Your Next Closet Detox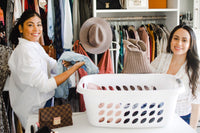 Hi Bellas,
Detoxifying your wardrobe is an essential step to elevating your style, and while there are many moving pieces to the process, editing your closet can be a pretty stressful task.

It's also an important factor in getting your wardrobe to where you want, and need it to be.
Finding The Root To What's Holding You Back 
Detoxifying your closet takes time and dedication, and when it comes to purging, you have to come to terms with the fact that you'll have to say good-bye to those unwanted items. The best way to find out what we need is to let go of what we don't, and while
Marie Kondo's
concept sounds like an easy one to live by, it's isn't as easy as one may think.
Many of us struggle to let go of our clothing, even when we know we no longer love or wear them. The first step to evaluating your closet is to understand what is causing you to keep these undesirable pieces, which is actually the hardest part. This is where hiring a stylist could help you figure out the root of your problem and what's holding you back from letting go.
Stylists Can Give You A Fresh Perspective

Most people assume stylists spend their time shopping or giving style advice, and while that is all true, there's a lot more to it than that. We have the ability to narrow down your scope and can be a huge resource in more ways than one. Throwing away memories is always hard, and when it comes to cleaning out your closet, stylists can guide you through the steps you need to take, to make the process easier.
Getting a fresh perspective from someone else can be an eye-opener, and having another set of eyes can be helpful to see what you already have, what you don't need, and what you should invest in…and who knows, you might not even have to spend any money on purchasing new clothes because you'll have an expert to help you repurpose items and bring them back to life.
Filling In The Gaps To Complete Your Wardrobe 
During the closet edit, it's important to identify what is missing from your wardrobe and which essential pieces you should invest in to help you fill in the gaps. While personal shopping isn't always required, most people realize their lacking pieces from various categories. This is the part of the closet detox where most people get stuck and aren't able to identify which categories they should focus on when shopping.
Building a "wish list" (a collection of personalized and desired products you want to save and buy) can be very time-consuming to create, and developing a list that includes various brands at different price points can be challenging if you aren't sure what to look for. Hiring outside help can be the solution to finding the right pieces to fill in the gaps to complete your wardrobe.
Are you ready to complete your next closet detox but need help? Leave us a comment below or send us an email at
info@bellavboutiqueandstyling.com
.
Xo
Bella V
Leave a comment (all fields required)
Comments will be approved before showing up.