Style Blog
Travel Smart By Packing Light with Bella V's Top 10 Picks For Your Next Destination: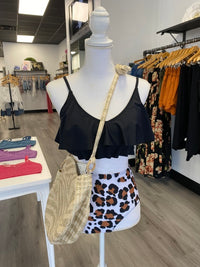 Hi Bellas,
As we approach the tail end of winter and move towards spring (finally, warmer weather!), there's hope we'll start to feel a bit more comfortable about traveling and getting back into the groove of enjoying cocktails on the beach and dinner nights…with more cocktails!
Wherever you plan to go this time of year, playing the guessing game on what to bring and what outfits to pack can be stressful, so being strategic about what you pack and preparing a light travel list prior to getting started is key.
As you start to coordinate your travel clothing, think as a minimalist to avoid over-packing, and when selecting your items, think less about how many outfits you need and more about choosing your pieces wisely. Building a minimalist travel wardrobe is the same concept as building a capsule wardrobe -- invest in essentials pieces that are versatile and can be remixed regularly. The idea is to create more with less.
Here are our top 10 picks at Bella V for your next travel destination:
Our pieces linked above are not only versatile, but can also be mixed and matched. So instead of having to choose an outfit and moving onto the next one, mixing and matching will give you the ability to wear them in different ways and during different times of the day. For instance, our dresses, skirts, tops, and shorts can be worn as cover ups on the beach but with the right accessories, can also transition into a night outfit. Our two-piece leopard set is an obvious showstopper on a sunny day and if you plan to take a beach break to dine out for lunch or happy hour, you can pair our ruffled top with one of our high/rise waisted shorts for additional coverage.
Do you have any questions on how to pack for your travels or how to build a minimalist travel wardrobe? Reach out to one of our
Bella V stylists for help!
Leave a comment (all fields required)
Comments will be approved before showing up.