Style Blog
How to Style Your White Jeans for Spring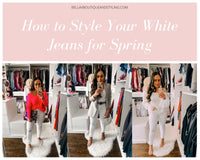 Hi Bellas,


Who else needs some brightness in their wardrobe? Time to ditch the dark color denim and add some spring white jeans to the mix! Not only are white jeans a wardrobe staple that will never go out of style, but they are more body friendly than you think. It's all about the fit!! As most of our OG Bellas know, we are KanCan jeans obsessed. For one, the fit is AMAZING! They hug you in all the right places. And second, it has stretch for those good curves we have ;)
If you're ready to join the white jeans fan club or you already love them like me, here are 3 must have looks for the spring:
Pop of Color
Spring and summer is all about adding bold, bright colors! And what better bottoms to pair a neon pink sweater with than white jeans?! Finish your look with sparkly flats, a multi floral clutch, and hoops.
Boss Babe Vibes
Who else feels like a blazer goes with everything? Besides it has boss babe vibes written all over it. Stay neutral in this look with your favorite taupe, grey or black blazer, add a white cami and a statement belt to seal the deal.
Monochromatic Whites
You guys already know how much I love a monochromatic look! A monochromatic white spring look is refreshing and makes you feel like a total fashionista. The key tip on mastering this look is pairing it different fabrics so it doesn't look like a uniform. For linen an off the shoulder top is a total show stopper. It has a little bit of everything, from polkadots, smocking details, to a ruffle hemline.
Which look is your favorite?
Have no idea what jeans to have in your wardrobe? Want to one on one help on how to maximize your wardrobe? Join our 911 styling sessions to have a stylist you can count on to help you create looks that makes you feel like a total babe. Learn more about this service here.
Leave a comment (all fields required)
Comments will be approved before showing up.